Early childhood education is a topic that usually concerns most parents. Although there are a large number of tips that can help the development of the baby or child, specialists recommend applying the Montessori method to achieve respectful, autonomous and effective learning. 
The Montessori method emerged in 1907 and is originally from Rome. At that time, teacher María Montessori discovered a new way of educating children who had learning problems or limitations. Now, more than 100 years later, the technique of teaching and learning continues to be used among families and schools. At CMS, we have specialized programs for children to learn and explore their creativity in a controlled and educational environment.
Therefore, if you are interested and would like to apply the Montessori method in the education of your children, below you will find the advantages of this method. It should be noted that the Montessori method can be applied up to 24 years of age. This is because its creator, Maria Montessori, separated learning into different levels of development.
What are the advantages of the Montessori method?
The Montessori method uses the creativity of children in activities of daily living. Among the advantages of using this technique we will find the following:
FREE MOVEMENT 
First of all, implementing the Montessori method from childhood will help babies and children begin to develop their independence. Therefore, one of the most significant advantages of this way of teaching is the freedom of movement. With this, the students will not feel that they are limited, since they will have constant movement.
In the case of applying this technique at home, specialists recommend that the child have an area just for them with montessori games in an area tailored to learning.
CHILD INDEPENDENCE AND AUTONOMY
Coupled with freedom of movement, a teaching based on the Montessori method allows children's independence and autonomy. This is because the child becomes the protagonist of their own learning. With this, the child manages to distinguish their own abilities and, with practice, develop critical thinking. Likewise, by being independent, children will learn to solve problems with their own decision-making capacity.
PERSONALIZED LEARNING
Another advantage of the Montessori method is that each child can have their own way of learning and developing. In addition, infants with learning difficulties may be included in the activities. This is because Montessori tools are based on trial and error, which allows self-correction to develop. Even mistakes made during a test are not frowned upon, since children are expected to learn from it to find new ways to solve a problem. This encourages self-assessment.
Furthermore, personalized learning helps each child acquire the educational tools according to their own needs, without forcing the child to acquire knowledge that is not appropriate for her age or condition.
FAMILY ENVIRONMENT AND COMMUNITY FEELING
Whether you decide to implement the Montessori method at home or enroll your child in a Montessori school, the family environment will always be present in the child's development. This represents an important advantage of this type of teaching, since the child will be able to feel that they are part of a community.
In this case, Montessori classrooms have a limited number of students, which allows teachers to attend to each student individually. Instead, at home, parents can get involved in their child's development with special activities.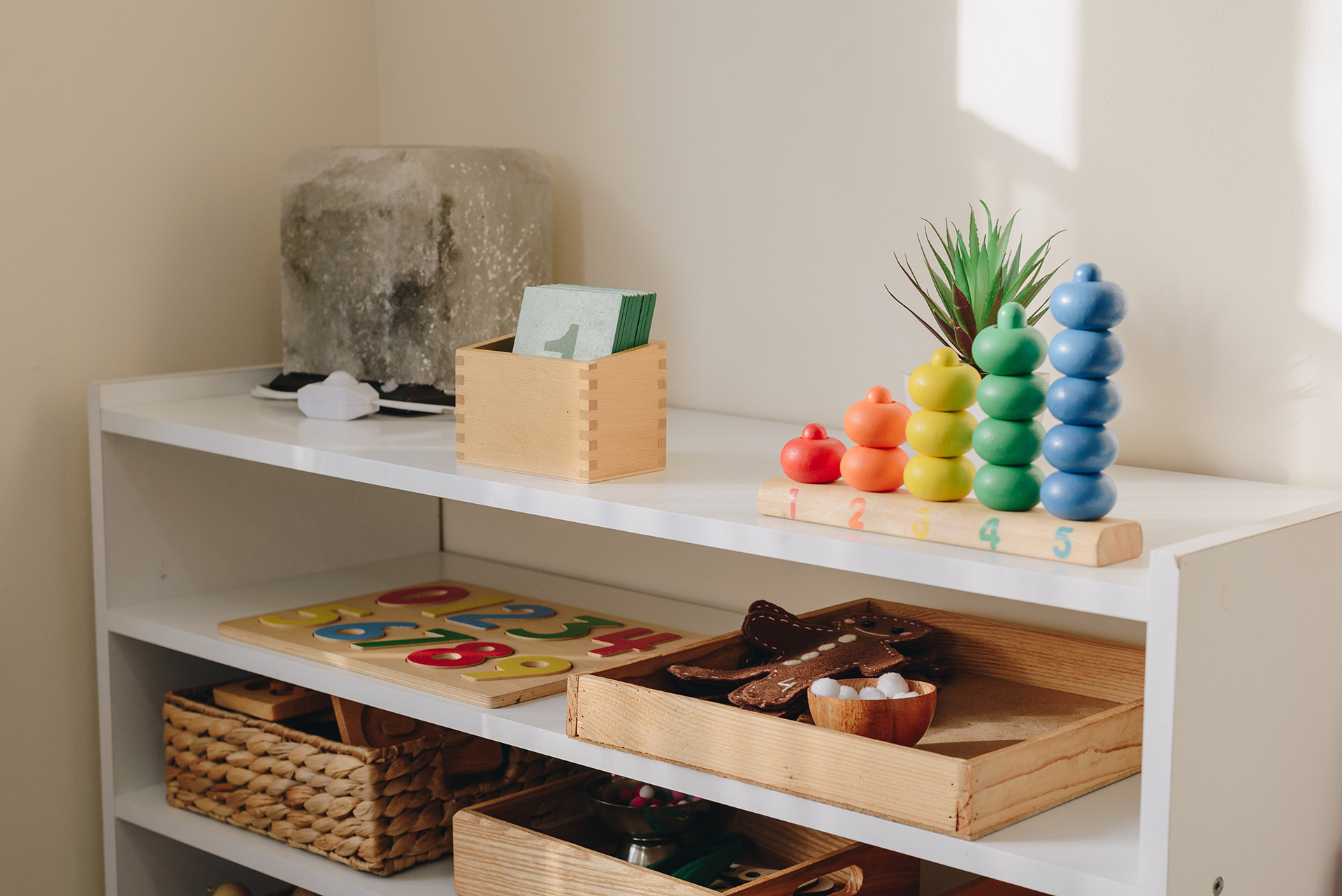 SELF DISCIPLINE
Although one of the advantages is free movement, the Montessori method also teaches self-discipline. Children have to learn to follow a set of specific rules that will help them in their daily lives and as adults. For example, they should put their toys in order when they finish using them. They will also have to keep their area clean, both at home and at school.
Self-discipline is accompanied by self-control. Both are encouraged by following the established rules that allow for a healthy and respectful coexistence.
DEVELOPES CREATIVITY
As we told you at the beginning, the Montessori method seeks to use creativity for the benefit of children. However, in the event that the child has not yet developed her own inventiveness, this technique will open the doors of their imagination. With this method, the child will begin to ask questions and solve situations in a creative and different way.
ACTIVE LEARNING
Once the child begins to develop and use their creativity in their environment, they will put active learning into practice. This is a very striking advantage of the Montessori method, since the children will have the ability to investigate, question and establish connections with their environment.
ENCOURAGES COOPERATION
Finally, another advantage of implementing the Montessori method in children is that it will encourage cooperation. This means that the child will learn to share with others. Likewise, when interacting with other children, the child will be able to feel integrated. In fact, specialists point out that children who learned to cooperate with the help of the Montessori method will likely grow to be adults capable of solving interpersonal problems peacefully.
Since there is a cooperative educational environment, the child will not have the pressure to compete with the rest of their classmates.
The Montessori method can be an excellent tool that will help children from birth. However, if you want to apply it at home, it is recommended that parents see a specialist in this method to establish the rules and learn about all the tools that are part of this type of education. In addition, you must be committed to guiding your child throughout the learning process.